Home page » Notizie » Bishop Kevin Vann and Father David Bristow become Chaplains of the Militia Templi

DALLE PRECETTORIE
Bishop Kevin Vann and Father David Bristow become Chaplains of the Militia Templi
26/06/2010
Dalla Precettoria del North America
On the 10th day of January in the Year of Our Lord 2010, His Excellency Bishop Kevin Vann, Bishop of Ft. Worth, TX and Father David Bristow, Pastor of St. Mary of the Assumption in the Diocese of Ft. Worth, TX were installed as a Chaplain in Honor and a Chaplain, respectively, of the Militia Templi; Christi Pauperum Militum Ordo (Knights of the Temple; Poor Knights of Christ).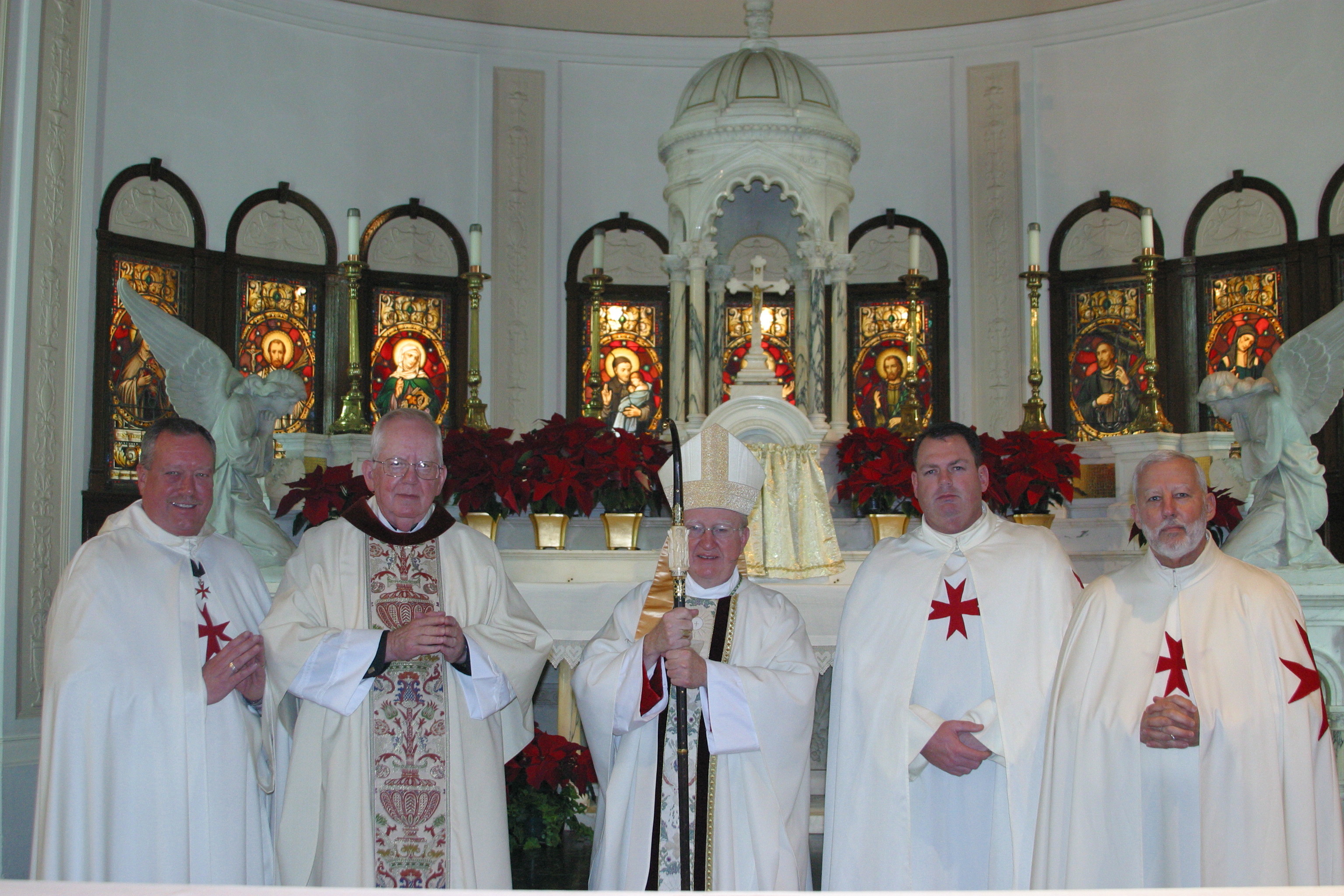 Shown at Our Lady of the Assumption, Ft. Worth, TX are, from left to right, dom. Jacob "Pete" Bynum, CPMO; Rev. David Bristow, CPMO; The Most Reverend Kevin. W. Vann, CPMO; dom. Michael Price, CPMO; and dom. Stephen Geiger, CPMO.

The Militia Templi is a juridically recognized Roman Catholic association of the faithful, erected canonically by diocesan right of the Archdiocese of Siena, Italy. It is devoted to the traditional teaching of Holy Church, the Magisterium, and is in full communion with the Holy See and her bishops. The charism of the Militia is the protection and advancement of the liturgy in place as of 1962. While loyal to both forms of the Mass, it has a special devotion to the traditional Latin Mass and the Divine Office as approved by Blessed Pope John XXIII. The Militia Templi is also devoted to the care of needy families in the Holy Land and the defense of Holy Mother Church. As such it is particularly devoted to the teaching of the traditional Faith to the many young people today who have been abandoned to an increasingly secularized pop culture.
The Militia Templi has found a wide and growing appeal in over eleven countries and is experiencing a rapid growth in the United States. The appeal of the Militia to the Catholic faithful appears due to the extra sacrifice of self to God that a vocation requires. As an association of the faithful, the Militia has a formal novitiate leading to investiture as knights of the Militia by taking vows of obedience, chastity according to one's station in life and spiritual poverty. Knights vow to live by the rule of the Militia, in accordance with its Constitution, in charity and obedience to their superiors. Dames make a formal donation of themselves to God, His Church and the Militia. The rule of the Militia is almost a direct copy of the primitive rule of the Templars. Thus, the Militia is committed to much of the asceticism of a contemplative religious order such as the Benedictines or Carmelites. As knights, they live in the secular world dedicated to the charism of the Militia Templi. As such, the Militia, like the ancient order, is both contemplative and active, monastic and knightly and fosters the virtues of humility, obedience and charity. A vocation with the Militia is a commitment to a life of work, prayer and self-sacrifice in the service of God, His Church and neighbors.
The Grand Master of the Militia Templi is Count dom. Marcello Alberto Cristofani della Magione who resides at an 11th century Templar castle which also serves as the Magistral See. The Abbot Protector of the Militia Templi is Abbot Philip Lawrence, O.S.B. of Christ in the Desert Monastery in Abiquiu, NM. The Preceptor of the North American Preceptory is dom. Charles Adams. More information about the Militia Templi in North America can be found at: http://www.militiatempli.org/

Dama Eva L. Sturchio